The Make It Rain Campaign is back again, giving thrill-seekers the chance to earn 50% more MGP!
The campaign attendant offers discounts on a range of incredible prizes, such as furnishings that allow you to play Gold Saucer mini-games in the comfort of your estate hall. Join the festivities and rake in the rewards!
Read on for details.

The official benchmark for FINAL FANTASY XIV: Endwalker is now available! Test the limits of your PC while feasting your eyes on the elegant facades of Old Sharlayan, the verdant landscapes of Thavnair, and the battles that await the Scions of the Seventh Dawn.
This benchmark uses updated scoring criteria to account for the increase in multiplayer content and provide a more accurate evaluation of how your computer will perform when running the latest version of the game. A character creation tool is also included, featuring the highly anticipated male Viera.
Make sure to check it out and prepare for the epic journey that is Endwalker!

How Do You Like Hydaelyn? is a Japanese Community team live stream series where they are joined by Warriors of Light to take on all kinds of challenges and explore the exciting world of FFXIV!

In their upcoming challenge, our Japanese, North American, and European Community teams will be working together on a mission to learn all blue magic spells! Should the teams succeed, the Inferno Jacket in-game item will be added to the rewards of the next Moogle Treasure Trove!
* Event dates and details of the next Moogle Treasure Trove will be announced separately at a later date.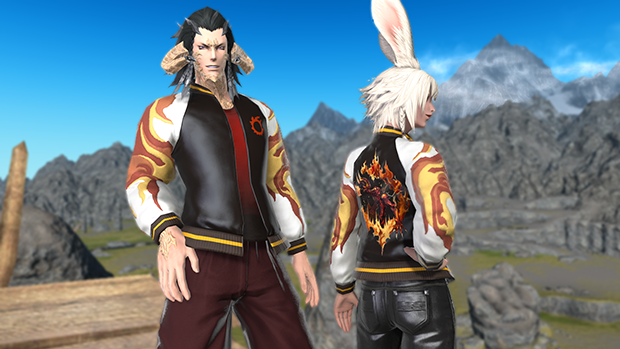 During this endeavor, we'd like to enlist the aid of fellow blue mages in the audience as we go through a myriad of dungeons and trials. Whether you're a budding blue mage looking to learn spells with us, or a veteran looking to lend us a hand, we'd be glad to have you along!

If you're on a different data center or aren't able to join our party, you can still follow along with the stream to learn the spells with us!
North American Community Stream: Duty Commenced
When
Thursday, 8 July at 21:00 to Friday, 9 July at 02:00 (GMT)
Thursday, 8 July at 22:00 to Friday, 9 July at 03:00 (BST)

Where
Crystal Data Center on the Mateus World
Where to Watch
European Community Stream: The Unending Journey
When
Friday, 9 July at 13:00 to 17:00 (GMT) / 14:00 to 18:00 (BST)
Where
Chaos Data Center on the Ragnarok World
Where to Watch
14 Hour Broadcast – How Do You Like Hydaelyn? 
When
Saturday, 10 July 2021 at 5:00 to 6:00 (GMT) / 6:00 to 7:00 (BST)
* Starting time is subject to change depending on the proceedings of the 14-hour Broadcast.
* View the 14-hour Broadcast schedule.


Where
Elemental Data Center on the Carbuncle World.
Where to Watch
* Please note that the audio will be available in Japanese only.

Patch 5.57 brings a number of additions and refinements to the realm, including adjustments to Allagan tomestones of revelation and Eden's Promise (Savage).

The Patch 5.5 special site has been updated with a look at the updates to Save the Queen: Blades of Gunnhildr, Performance actions, and new emotes.

Visit the special site.

* Patch 5.55 will be released on Tuesday, 25 May.

It gives us great pleasure to announce the release date and pre-order details for FINAL FANTASY XIV: Endwalker!
Release Date
Tuesday, November 23, 2021
Those who redeem a pre-order bonus registration code may play FINAL FANTASY XIV: Endwalker during the early access period.
Early Access Start Date
Friday, November 19, 2021
Visit the FINAL FANTASY XIV: Endwalker special site for details regarding pre-ordering and other bonuses.
* Note that Endwalker will only be available as a digital download.

It gives us great pleasure to announce the Moogle Treasure Festival 2021, a special Fan Festival edition of the Moogle Treasure Trove! Collect irregular tomestones of pageantry by completing specific duties and exchange them with Itinerant Moogles for a host of treasures.

To commemorate this year's Fan Festival, the Great Serpent of Ringa, Modern Aesthetics - Gyr Abanian Plait, and Ballroom Etiquette - Insufficient Petticoats have been added to the hunt's assortment of treasures. Don't worry, the number of irregular tomestones you can obtain from duties has been greatly increased, so you can obtain more items!

But that's not all! A number of items based on previous design contests have also been added to the lineup!
* Certain design contest items will be made available in future Moogle Treasure Troves, excluding certain items, such as those which can be purchased from NPCs.
* Item exchanges will not be available after the event has ended.

You won't want to miss this opportunity to reap rich rewards!

Read on for details.

FINAL FANTASY XIV and Butterfinger are partnering to offer Warriors of Light a chance to satisfy their sweet tooth while earning the adorable Chocorpokkur mount! For a limited time, purchase at least $5 of qualifying Butterfinger products, snap a photo of your receipt, and score a chocolatey new mount.

Read on for details.
PRE-ORDER OUTRIDERS FOR FREE HELL'S RANGERS CONTENT PACK


From Wednesday, February 10, 2021 at 12:00 a.m. to Monday, March 8, 2021 at 6:59 a.m. (PST)

A new year fast approaches, and once more the Twelve convene to decide who amongst them will oversee the coming year. Such divine matters mean little in the Far East, however, and a delegate from those distant lands has come to Eorzea in the hopes of sharing their celebratory customs. Alas, their plans to mark the new year appear to have gone awry, and the Ushi Bugyo seeks assistance to steer their celebration back onto its proper course.

Read on for details.

The chill of winter returns to Eorzea once more, heralding the arrival of the Starlight Celebration. Preparations for this year's festivities are well underway, or at least, they should be. A young man of abundant wealth and self-assurance─and considerably less abundant Starlight spirit─has been tasked with overseeing the event, and his plans for the season appear to be anything but promising. Amh Garanjy is seeking help from anyone and everyone in the hopes of pulling off a Starlight miracle.

Read on for details.

The special site for Patch 5.4─Futures Rewritten is now live! Here you can catch a peek at what new adventures await the Scions in the Source, the next raid dungeon Eden's Promise, the latest instalment in the Sorrow of Werlyt story quests, and more!

View the special site.

Patch 5.35 brings a multitude of additions and refinements to the realm, including the continuation of the Save the Queen story and Resistance weapons, a new instanced encounter on the Bozjan southern front, and upgrades to Skysteel crafter and gatherer tools.